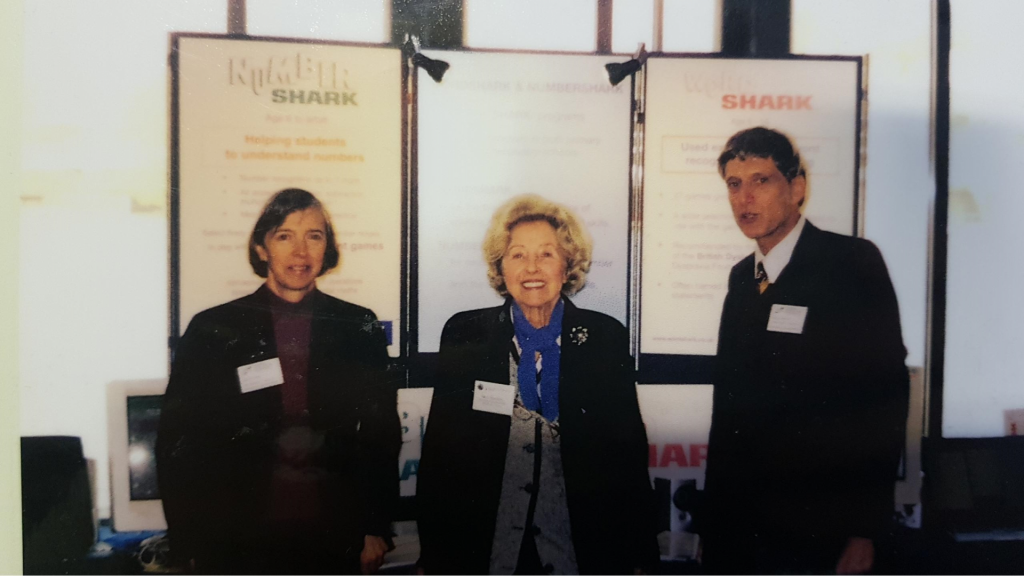 The origins of Wordshark
Ruth (left), Beve (middle), Roger (right)
It was around 1990 that Ruth Savery decided to develop her own software to help children who were struggling with reading and spelling. She was working in schools with pupils with special educational needs and disabilities and had an inkling of how computers might be able to help them, but she couldn't find just what she wanted anywhere. The solution came when she was talking to a relative at a party, who happened to be a highly experienced programmer. They decided to work together.  And so Wordshark was born.
At the time Ruth had completed the Helen Arkell dyslexia course, and was familiar with the well-regarded Alpha to Omega scheme developed by Beve Hornsby to help dyslexic learners develop literacy skills in a structured, meaningful, way.
Alongside a sound theoretical underpinning for the program, Ruth had a number of other principles in mind. The games and activities needed to be short, to hold users attention, as well as being fun and engaging in order to provide the necessary practice. There needed to be an element of feedback, and a system of rewards for completion.
Whilst the graphics have been criticised for their simplicity, this has only ever been a concern of adults – children don't seem to mind. When the first version was created, layout, colour schemes and images were all given due consideration, although when they were first created file sizes were considerably restricted compared to nowadays, but the graphic style was established and has remained ever since – for the  installed, and network versions, that is. The latest iteration, Wordshark online, has moved to using photos to illustrate words, and has smartened up the graphics in games, but the simplicity of the layout remains.
Other elements that have been consistent throughout include the multi-sensory nature of the activities. They are presented visually, the words and directions are spoken, and the nature of the activity is necessarily kinaesthetic. Children are also encouraged to speak aloud, with  a soundwave on-screen to both model the spoken word, and to reflect their utterance.
One thing that has changed, however, is the content. Games have been developed and added to, often in response to the 'hundreds' of courses Ruth has attended to better understand the theory of literacy development. It was also a response to her in-class observations of pupils, and of her own child's struggle with acquiring essential skills, and their feedback on what works for them.
Within the activities there are nods to the work not only of Hornsby, but also of many leading academics in the field of dyslexia, and approaches such as Gestalt theories of literacy. She has attended courses on using Neuro-Linguistic Programming (NLP) and frameworks such as Phono-Graphix.
With this in mind, as you go through the activities you can perceive the use of ideas such as phonic awareness, whole word reading, and understanding of words in context. All of it is supported by a belief in the integral part that phonics plays in decoding.
Wordshark is designed not as a literacy scheme in itself, but as a valuable resource for pupils to practice the skills inherent in it. And, no matter what path they take to get there, it provides useful assistance, supported by a keen understanding of what that involves.
By John Galloway
John specialises in the use of technology to improve educational opportunities for children and young people with special educational needs. Much of the week he works in Tower Hamlets, in London's east end. He also freelances as a writer, consultant and trainer. @johngalloway